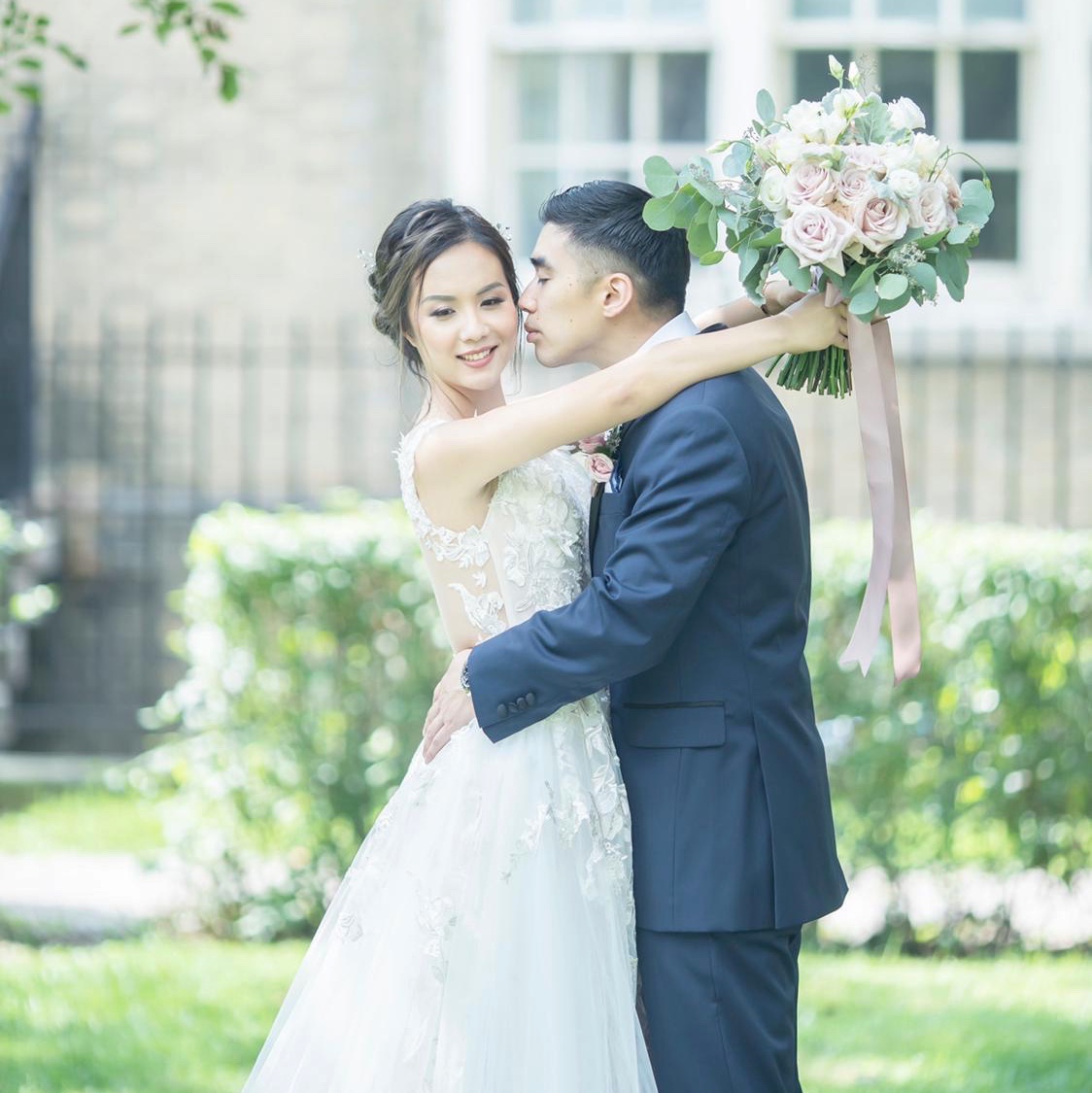 Thanks Susam and Sky for helping our day go so smoothly! Getting a Month-of-Package was the best decision ever made, it allowed all our wedding party and ourselves to be worry free on our special day! The day was so on schedule and you guys helped to ensure everything worked logistically and took care of any last minute surprises! A sincere thank you for all your help not only on Saturday but all the planning that went into it as part of the Month-of-Coordinator package. Fantastic job and would highly recommend you both to others!
We had our wedding yesterday (8.10.2019) at the Thompson Hotel in downtown Toronto and hired Susam and her company as our Month-of-Coordinator. Her professionalism and superb hard work exceeded our expectations. She went above and beyond in every way and without her, this would not have taken place so smoothly and beautifully. We had an amazing day and everything went according to the plan. She and her assistant Kirsten took care of every detail and made our big day extra special! I would highly recommend her to all of my friends 😊
"Susam was highly recommended to us by our friend who had recently been married, and we went ahead with her Month-of and Day-of Coordinator package. From our first meeting, Susam was amazing to work with. Her flexibility in meeting locations and times, her professionalism, her attention to detail and asking all the right questions allowed us to plan a wedding with ease, without forgetting any details. Susam is very well organized, very prompt with her response rates, and very efficient with vendor followups. She made our lives much less stressful leading up to the wedding, and ensured all of our comments trickled through to our vendors. On the wedding day, Susam and Kirsten allowed us to fully enjoy our day without having to worry about anything. Susam ran the schedule and everything flowed naturally. She made sure everyone was where they were supposed to be at the right times. Susam also has an AMAZING memory for every detail you tell her. Nothing is missed. Even if it is a casual mention, she would have everything noted down and everything executed to how you have envisioned it to be. Susam was also instrumental in day of "emergencies", and has a solution in hand very promptly (ie, champagne spills on dresses etc...) Susam is also amazing with parents and family, whether with answering questions about wedding-day schedules, what wedding traditions are, and puts their minds at ease as well. If you are looking for a wedding planner, Susam is a superstar and hands down a definite go-to. "
'" Susam was amazing for our wedding in October. She was easy to work with and was always available whenever I needed something.

When we first met for our consultation, she from the get go see what my vision was for the wedding. She asked a lot of questions and see where abouts where the planning process was at. After taking to her, there was a lot more to be done then expected. She emphasized that everything will be alright!!

As the wedding got closer and closer, she constantly was in contact with me to make sure I was on schedule. Not only that, she was also making sure the vendors were in the loop as to what was going one for the day of the wedding!

On the day she was amazing! I did not have to worry about anything because she and her assistant were taking care of everything! She was running from place to place picking up items and make sure everything was ready to go.

Both my husband and I had an amazing time at our wedding! We both were able to let loose and not worry about anything because of Susam and her team @ SS Wedding and Events :)

I highly recommend her services to any bride looking :) "
" Susam and Sky were an absolute dream to work with for our big day. We DIY'd a vast majority of our wedding (centerpieces, décor, etc…), but had no idea how to put it all together for the most important day of our lives. When we reached out to Susam, she made the process so easy for us from the get-go to share our ideas and vision to her. On the day of, when we walked into our venue and saw everything setup, it truly was a dream come true. We could not have been happier that day – thanks to her!

Susam takes the time to look into vendors for you and any details that can cause a lot of headache for couples. She goes above and beyond to make sure you feel like you're prepared and ready for the big day. Moreover, on the day of, she takes the lead and gets things done, transitioning décor / events on your timeline extremely smoothly.

We could not have imagined planning this wedding without Susam's help – truly. It's all the little details that will make your head spin, if you try to do it all on your own. Not to scare you, but the last month leading up to your wedding, may make you lose some hair. However, having a coordinator who is as experienced and confident, like Susam, will help alleviate any of that stress and allow you to focus on the fun parts leading up to the big day!

If you're going to have a wedding, do it right and reach out to SS Wedding & Event! It will make a whole world of difference for your big day."
" This is way overdue but I want to make sure I get this out. Brides and grooms-tobes if you are looking for someone to help plan your entire wedding or coordinate just for the day, SS Wedding & Event is the deal.
Susam and Sky were there for my hubby and I since day one; taking loads of stress; and I mean LOADS OF STRESS off my shoulders so I could get on my daily life without having to sacrifice putting my full effort at work or making my special day an less perfect.
From looking at venues to choosing my dress to finding the right vendors for my budget and style; SS Wedding & Event walked me through every single detail with lots of patience. I'm a fairly forgetful person and Susam has done above and beyond to make sure progress is made. They show the utmost professionalism anyone can ask for and this has made the past 1 year and 9 months of planning for the biggest day of our lives a piece of cake and a very enjoyable experience.
Thank you you both."
" At first me and my husband tried to plan and organize our big day ourselves. But due to both of our busy schedules, and with recommendation from our friends we found Susam and Sky for their full planning services. This was the best decision we could have ever made. Susam and Sky was always available to help us plan every little detail and kept us on track the whole time, so that the one day will just be the way we imagined it. And have them both on the day of the wedding was also a live safer with the little hiccups along the way, they were able to manage all of it and still have the day run smoothly and as planned. And most importantly it allowed us and our guest to enjoy and have fun."
" I hired Susam as my day of coordinator and it was the best decision I could make. From the first meeting to the final minute day of, Susam surpassed my expectations as a coordinator. She was extremely organized, professional and friendly and just overall my rock during such a stressful time. Susam was easily contacted via email and text message and was flexible with meeting hours and locations. Her emails to keep me on track were details and honestly took so much anxiety of off me. Her day of itinerary was a lifesaver and allowed vendors to come and go seamlessly. I cannot thank both her and Sky enough for helping make my dream wedding come true, and it went off without a hitch. Everyone was pleased with the organization and flow and my bridal party was even pleased with how flexible and caring she was. To have vendors comment on how amazing they were just made me even happier with my decision. Thank you soooo much for your hard work, dedication and grace. I cannot say enough good things about this company and look forward to working with you in the future!"
" The one piece of advice we kept hearing from past brides was to hire a month of coordinator, and that it would make all the difference. So off we went looking for a planner. I found Susam on Facebook and then we met over coffee for an initial consult.
Hands down, hiring Susam was the best decision we made while planning our wedding! Susam was very organized, communicating with her was such a breeze, and it was obvious she was such a genuine person who loved what she does. She was available to chat no matter what time I contacted her, and she would send us reminders on tasks we still needed to do. She went above and beyond and even went to stores to help us find items we didn't have time to shop for ourselves. 6 months before our wedding, our photo booth cancelled on us, and Susam was able to find us a new photo booth company to hire right away that was within our budget and needs. We had a pretty clear vision on how we wanted our wedding, and Susam executed this PERFECTLY on our wedding day! We were really able to enjoy our day, completely worry free.
Susam and her assistant set up/decorated our venue exactly like we wanted, and corresponded with all our vendors for us to ensure the day went smoothly. To our surprise, our day went according to schedule with minimal delays! She stayed until the very end to help us pack up our wedding decor so that we could literally enjoy our day from the beginning to the very end.
Thank you so much Susam for helping us plan and execute the wedding of our dreams! We couldn't have done it without you."
" We hired Susam from SS Wedding and Event after a recommendation from a friend, and we can't say enough positive things about her! We were originally planning to go without a day of coordinator, but after meeting with Susam and seeing what she had to offer (plus her super reasonable pricing), we opted for her month-of coordination package
Without a doubt, this was the smartest thing we could ever do for our wedding. Susam's attention to detail was above and beyond - she brought up points and ideas that didn't even occur to us, and were instrumental to making our day smoother and more special for everyone. Asides from her super detailed and organized notes, her communication was amazing! Any questions or concerns we had were addressed almost immediately, regardless of the time of day. Also, as soon as we provided her the information, Susam made contact with all our vendors to ensure all the detailing was correct, which gave us such peace of mind.
From day 1, we could tell Susam loved what she did. We could see it from her genuine interest in us as a couple and how excited she would get with all the ideas we had, traditional or not. Having never planned anything on this scale before, we became overwhelmed with the whole process, but Susam was always there to encourage us and even offered to help with small projects to make everything seem less daunting.

As for our wedding day, despite the rain, the freezing cold, unexpected fires and ambulance arrivals, our day went smoothly and was carefree! (at least for us) Having Susam there allowed us to enjoy our special day completely and without distraction. We can safely say that without Susam, her help planning, organizing and executing, our wedding probably would have been a stressful, disorganized mess! Instead, we had a beautiful day with our family and friends that we will cherish forever!

Thank you so much Susam and SS wedding & event!"
" My husband and i are super greatful that SS wedding & event jumped on board and help plan our big day from the beginning 1 year ago to the day of the wedding. Susam and sky are an absolutely great team. Their efficiency is at the top notch. Never letting me or my husband down, returned my texts at odd times in the day, worked around our schudules, gave me answers right away when i asked.

Prior to the wedding day every 2 months, Susam would make sure we meet up and check up on the to do list. Always giving idea if we were ever stuck. After our engagement party, 1.5 months before the wedding day, I decided to let Susam do the rest of my planning. She not only had to communicate my vendors locally but as well, my MC who lives in HK.

On the day of the wedding, From the beginning of the day to the last guest leaving, they were both only an arm away.
Susam and Sky! We both thank you from the bottom of our hearts for being there and be part of our special day!"
" I am glad that we have Susam and Sky to handle everything for the most important day of our life.

All girls dream about their wedding since we were small, and I thought my plan was quite perfect until I met Susam. There were so many researches and decisions need to be made just for 1 BIG day. Susam is very efficient providing us option with honest, direct opinion. Her creativity and organizing skills in details amazed us.

Love her friendly reminder, like a pop quiz. For example..."what time are you supposed to arrive at your mom's place tomorrow?" Seriously, I have time to enjoy my wedding with no worries because Susam and Sky were there. Keep up the good work, guys!!! "
" We worked with Susam from SS Wedding to help coordinate our recent wedding. It was our first time meeting her, through a friend's referral, and we found her to be very easy to work with.

She helped us with our wedding itinerary and made suggestions which helped our event run smoothly. She also had relationships with various vendors, allowing us to get deals wherever possible, and acted as the liaison to free up time for us to focus on other things.

We had a traditional Chinese wedding, complete with door games, wedding games, a banquet, etc. SS Wedding was no stranger to this type of event, which was perfect for us.

Lastly, communication is key for wedding coordination services, and this is their strong point. SS Wedding was very responsive as we frequently exchanged text messages, phone calls, and meetings.

If you need a responsible and efficient event planner/coordinator so that you can enjoy your big day and reduce stress, we highly recommend you check our SS Wedding."